Keep Orders and Profits Flowing with a Quick Service Restaurant POS System
Put the "quick" back in quick service.
Speed of service is critical in setting your quick service restaurant (QSR) apart from the competition. As you look for the best QSR POS system, you'll want an option that keeps lines moving and is easy to use.
Prioritize a POS that offers front-of-house and back-of-house solutions. Some key QSR POS features in Revel's full-service platform include customer display systems, Always On Mode, menu building, inventory management, employee management, and intelligent reporting. Here's a closer look:
Accelerate your quick service restaurant with powerful POS technology
QSR POS Software
Menu Building

Build a menu that is the perfect fit for your restaurant. The top quick service restaurant management software allows you to customize individual items with images and descriptions, and use modifiers and combos. The best part? With Revel you can update your menu for one or multiple locations all from a single, central console and the click of a button.

Inventory Management

Get a quick service restaurant POS system that lets you keep track of your inventory at the ingredient level in real-time. You'll know what to restock and when, striking the perfect balance for on-hand inventory. A great inventory management system will minimize your waste and maximize your profits, ensuring you have what you need—but never more than you need—to delight your customers.

Always On Mode

Keep business up and running during an Internet slow-down or power outage. Swiped payments taken offline are automatically queued and processed when your connection comes back. You'll enjoy total continuity for payment processing and quick POS transactions, even if the network gets spotty.
QSR POS Hardware
Customer Display System (CDS)

Utilize a CDS for order visibility, on-screen tips, loyalty program and CRM data capturing, and signatures for faster checkout. A CDS increases transparency during transactions, heightening customer trust while improving order accuracy. Leverage this prime real estate on your counter for branded promotional messages to encourage your customers to buy more and return quickly.
QSR POS Services
24/7 Support

Unlike traditional cash registers, today's point of sale is the heartbeat of your business operations. Whether you have a question about your POS, need to troubleshoot an issue, or want to further optimize your platform, Revel offers 24/7 support 365 days a year.

Concierge Services

As you balance all the details required to run your restaurant smoothly, we understand that sometimes POS administration is the last thing on your mind. With Revel Concierge Services, you can outsource this task for white glove service from our team, freeing your time and attention for other pressing tasks.
QSR POS Features
Employee Management

Revel's platform offers a full suite of business management tools, including front-of-house and back-of-house solutions. Take care of administrative tasks like employee management and scheduling all through one platform. You'll be able to manage employee schedules, hours worked, and payroll. Revel's software helps prevent over and under-staffing, and helps you easily track hours worked for local workforce regulation compliance.

Intelligent Reporting

Any successful restaurant operator understands the value of key performance indicators (KPIs) and performance reports. Take the guesswork out of running your business with intelligent reporting. You'll save time with reports that highlight your top sellers, busiest hours, and monthly progress. Access valuable data in real time to make informed decisions from your quick service restaurant POS.
QSR POS Payments
Flexible Payment Options

Flexible payments are an ideal component of your POS for a couple of reasons. Offering multiple payment options is convenient for your customers, and allows them to pay as they choose. Additionally, with flexible payments you can offer contactless options, which are increasingly a great solution for customer and employee health and safety.

Revel Advantage

Explore Revel Advantage, our in-house payment processing solution, for a seamless payment experience for you and your customers. You'll enjoy industry-low rates and all the latest in payment flexibility. With a comprehensive solution that includes your POS and payments with integrated software, hardware and and credit card processing, you'll save time and money so you can focus on your business.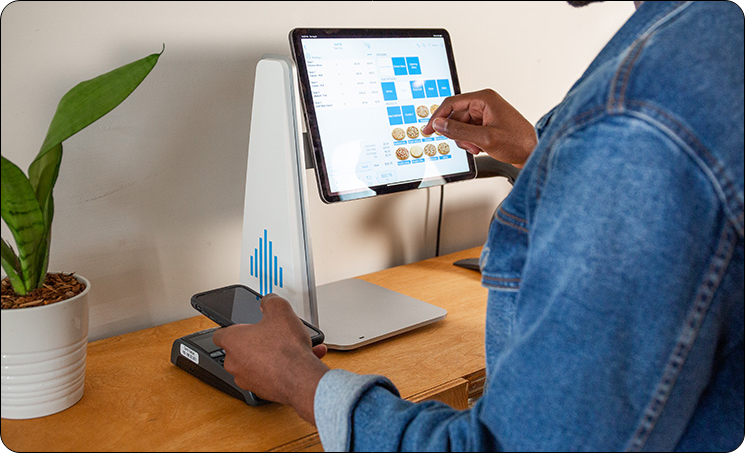 Leverage the most versatile system in the market today
Revel Systems' feature-rich POS platform integrates seamlessly into a host of Revel developed additional services and third party partners in order to fit the needs of your business. From accounting and eCommerce to CRM and workforce management, Revel offers the tools you need and the partnership integrations you desire to run the business you want.