Revel Offers Delivery Software to Best Meet Your Business Needs
Open your business to a larger audience and unlock next-level delivery capabilities with Revel's robust delivery options! Choose between Revel's in-house delivery solution, Delivery XT, or integrate with one of Revel's delivery partners, like DoorDash, to outsource your delivery services. Grab your piece of the booming food delivery industry and take advantage of this growing market.
Watch Our Delivery XT Demo
Delivery XT
Take your delivery service software to the next level with Revel's fully-integrated delivery solution, Delivery XT. This includes a dedicated app for driver assignment and tracking, a driver's app to accept deliveries and get directions, and a manager's app with reporting capabilities. You'll enjoy faster deliveries, happier customers, and higher revenue with optimization of every order.
Benefits of Our Delivery POS System
A Single Dashboard for Your Essential Delivery Metrics
Through our new dispatch application powered by Captain AI, Delivery XT provides a single dashboard to help you easily assign orders, estimate delivery times, and track drivers on the road as they fulfill each delivery. The best part? All of these critical delivery insights pull into a single, central dashboard, ensuring you can keep an eye on every aspect of your delivery operations.
Excellent Service with Real-Time Tracking
Wow your customers with a seamless delivery experience that recognizes return customers and their orders. From order placement to doorstep delivery, customers can track every order in real-time as their favorite dishes route directly to their home.
Stay in Constant Contact with Your Customers
Able to communicate directly to customers via updated information from your kitchen display system (KDS), you can contact your customers through email or SMS. Manage expectations and kick your customer service up to the next level with order updates and expected arrival times.
Leverage Data for Smarter Routes and Live Updates
Delivery XT allows you to access data-driven efficiency for each delivery. Know where your drivers are located at all times with live tracking on a virtual map.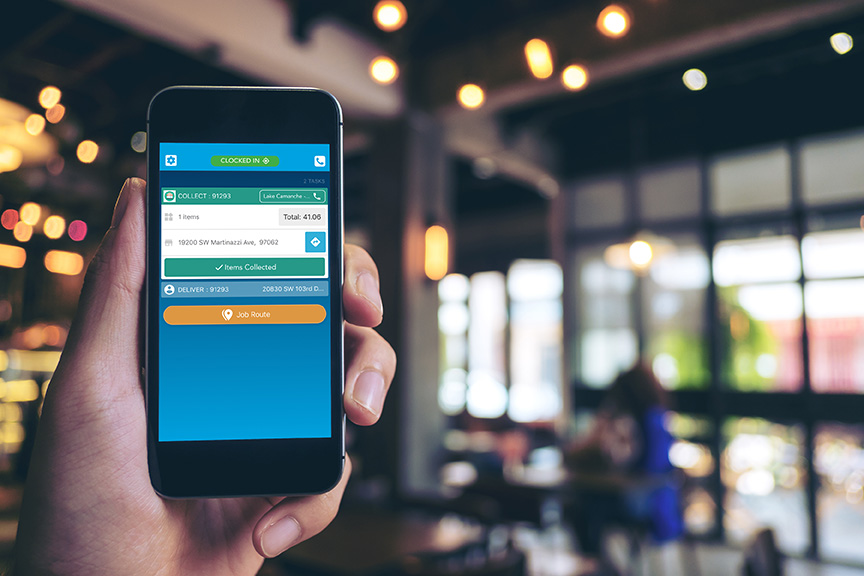 A Ready Option for Your Customers
With Delivery XT you can enhance your operations by reaching diners outside of your dining room with a fully-branded delivery experience. Offer your customers a taste of your restaurant right to their table. With an in-house food delivery software integrated directly to your POS, you'll retain full profits on every order, control the customer experience from start to finish, and aggregate all your order data to a single, central console.
With Delivery XT we're able to really enhance the experience for our customers. Food arrives quickly, so it's still fresh and hot when it's delivered, and with native delivery we're able to bypass third-party delivery fees on those orders. We can also stay in constant communication with our customers, helping them track their orders until the food reaches their door.
Michael DeAngelo, Owner, Wok Hei
Revel Driver XT™ powered by DoorDash
Driver XT powered by DoorDash offers Revel clients a third-party driver dispatch solution for delivery orders. With Driver XT, merchants can offer full-service delivery without maintaining an in-house driver fleet.
Driver XT is the perfect restaurant delivery software for merchants that want a new revenue stream and don't currently have an in-house delivery system. It allows merchants to retain all the order profits and full control of the consumer experience for delivery orders. It's important to note that Driver XT is only available for Revel clients with Online Ordering XT enabled.
Some of the features that are supported through direct integration include:
Dashers who deliver native orders from your website or app
A 5-mile radius supported for deliveries
Order pickup confirmation
Delivery time estimates
To get started with Driver XT in our available markets, please fill out a form for your respective country:
Control your own destiny and choose the right delivery service software for your business. Revel provides the flexibility and resources you need to be successful in your delivery journey.
Related Products
Online Ordering XT
Revel's latest offering for native online ordering, Online Ordering XT is a solution that gives merchants full control of the consumer experience and maximum profits on each sale.
Drive Thru
Add a revenue stream for your business with a full-service drive-thru solution for diners who eat off premises. Our end-to-end drive-thru offering includes everything from a digital display board to headsets and speed of service timers.