Running a bakery is no simple task! In addition to a love of dough, many factors come together to distinguish the good bake shops from the great ones. The steps outlined below can help with the unseen operational details that ensure bakeries aren't just producing great products, but have the administration systems to keep business running smoothly.
Yes—the pun is intended for this step. The first step in creating a plan for growth is to analyze your business as it is currently operating. This will give you a full picture of the areas of your business that are healthy and those with room for improvement. Completing a deep analysis of your business will help you map out future goals. To get a full picture of your business' health, you should:
Look at Sales Data If you are questioning, what are we doing well, or where are we dropping the ball? You should start by looking at your data. From your sales numbers and inventory management reports to employee stats and customer data; you should lean on your data to guide your decisions.
Review your sales history for trends. For example, identify your best-selling cupcakes or pies, and also clearly understand which flavors are not performing well. With robust reporting tools, you can analyze every item on your menu, see what sells and what doesn't, and swap items in and out of your menu based on historical performance. Have lots of leftover banana nut cookies each evening at close? Even if you love the offering, it may be time to take that flavor off the menu.
Are You Maximizing Your Ingredients?
Do you know what your weekly waste is? Do you consistently have leftover baked goods that get thrown away at the end of the day? The way to combat and keep your food waste low is to actively manage inventory levels. Keeping up with your inventory has many benefits including enabling you to:
Track expected use of ingredients
Decrease food waste and prevent over-ordering
Prevent theft
Check your financial health
And help you answer questions like:
"So, how is the bakery doing… financially?" "Are we using the same amount of flour during the summer as we are during winter?" "Should we be ordering more chocolate?"
By using an inventory management tool, you are able to take the guesswork out of the equation and replace it with data. With Revel, for example, you have the ability to track the sales of your baked goods down to the ingredient level. So with every pastry sold, you know exactly how much butter you used or how much flour was removed from your inventory – in real time. Advances in inventory management technology give operators the confidence to know that your kitchen will always be stocked at the optimal inventory levels.
And if you aren't tracking your data, well then it's time to start thinking about investing in technology that gives insight into your business. Revel's operational features and reporting capabilities give bakeries the tools to draw out business-impacting insights.
In addition to analyzing your data, take time to conduct qualitative research by engaging with your stakeholders. Customers' opinions are often considered by businesses but don't forget to also hear from your employees.
Learn From Your Customers Are you using Yelp to take comments from your customers? (If not you should be!) Review sites are a valuable tool for feedback and gaining new customers. You should be regularly checking your feedback to compile comments and feedback. You can gain valuable and actionable feedback about your business. Diners can be your best advocate, and in the case, there is room for improvement, a source for vocal criticism. Monitor your reviews and take action!
Talk to Your Team Give your employees the opportunity to provide constructive feedback. Be it one-on-one meetings, a group conversation, or written surveys – your team may have suggestions for your business and feedback on why they love coming in every day!
Look at the Industry
In addition to talking to the stakeholders who are close to your business, you should also look outwardly to understand current industry trends, sentiment on your competitors, all to discover areas of improvement and growth.
Subscribe to industry publications. The American Bakers Association, for example, produces industry studies that can be valuable as you plan for the future.
Review sites like Eater and Chowhound, which offer national and regional articles on all things involved with restaurants.
Check out Yelp's top lists, both in your area as well as nationally. Reviewing everything from images and menus to customer feedback is valuable research that can give you inspiration or help you avoid certain pitfalls.
After conducting a thorough audit of your business, pull together the quantitative and qualitative results of your research. With a full picture in front of you, the fun part begins, it's now time to evaluate and plan your next steps.
Possible outcomes may include:
Adjust Your Menu: Your insights may guide you to remove certain pastries from the menu. It may be time to ax those items that frequently go unsold. Make Operational Changes: Looking at hourly sales numbers may paint a picture indicating you should modify your operating hours. Is there a big rush in the morning and consistently slow evening hours? Think about opening an hour earlier so commuters can grab their favorite treats before work.
Accelerating the growth of your bakery can be boiled down to one overarching objective: Reach the right diners. And marketing plays a huge role in this. Check out ideas for traditional marketing as well as some ideas that you may not have thought of yet.
Try out some of these promotional activities to engage your customers:
Hold a flavor contest
Encourage customers to contribute and then vote on new flavors or types of deserts. If you're thinking of making changes to your menu, why not let your customers help you make your decisions.
Participate in local events
Holiday and themed events are a great opportunity to put your product in front of a large captive audience, and who can turn down a sweet treat? Get creative with your presentation so your desserts stand out. Think cherry blossom cupcakes at the Cherry Blossom Festival or music instrument inspired treats at a Jazz festival.
Build your own
Give your customers complete control of their deserts and open up your menu to allow customers to create their own combinations. For example, have a famous red velvet cupcake? Let your diners choose any frosting to top it.
Does that sound hard? With Revel, it's easy to set up and keep track of custom orders. By utilizing menu features including item modifiers and combos, you have the ability to fully customize every order for your customers and keep it all tracked.
Get into the delivery business
You don't run a pizzeria, and while the value of delivery is not there for the delivery of two of your famous lemon meringue cupcakes for a small $5 sale. However, if you have a customer that's shelling out some serious dough (say a 50 cupcake order for a wedding or office party), offer to throw in delivery for free or the price of gas within a certain radius. People are busy—you know it because you are too—and anything you can do to make your customer's day a little less hectic is good for business.
Enhance your branding
The brand elements you choose play a role in driving diners into your establishment, too. It's important to create a cohesive brand story that speaks to who you are as a bakery. From the decor that welcomes people into your restaurant to the packaging that keeps your restaurant top of mind when diners get home – pay special attention to developing a strong brand. Elements include:
Logo
Packaging
Website and online ordering
In-store experience
Colors, photography, and other visual elements
If your bakery is lacking a cohesive brand story, take time to plan out your branding. While it may take time to implement branding elements like interior design, it's becoming increasingly important to create fully branded dining experiences.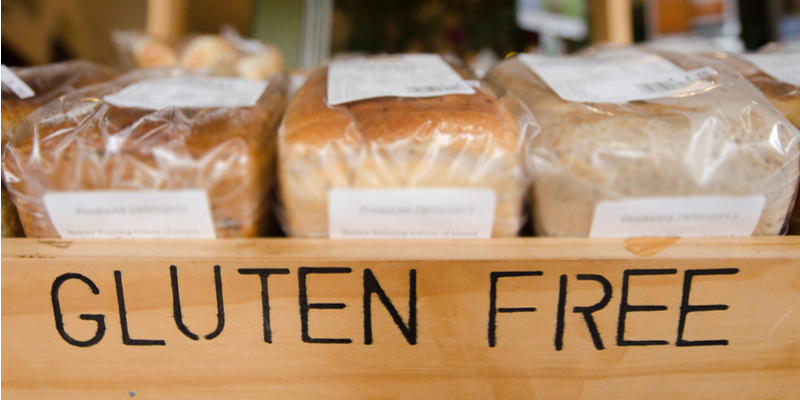 High Protein: This trend isn't just for new bakeries hoping to specialize. You can easily offer a few higher protein options (like a rotating selection of a few high-protein muffins, cookies, and so on) to complement your regular offerings.
Gluten Free / Allergy Friendly: Make your business more inclusive by offering options that cater to food allergies and food preferences. Rotate in peanut free options, gluten-free options, even dairy-free desserts – and don't forget to promote the days they'll be available!
Tiny Treats: And if those sound like blasphemy to you, consider offering half portion sizes of your most popular baked goods. Mini cupcakes and cookies are a great way to win over those who are counting the calories but still have a sweet tooth.
Get into Philanthropy
While reviewing your waste, did you realize just how much of your product goes unsold and thrown away? While one solution for that problem could be to reduce the amount of product you bake throughout the day, another solution is to partner with a group that could use your leftovers. Who wouldn't like one of your chocolate chip cookies to sweeten their day? Check local homeless shelters, many partner with restaurants and businesses to accept unsold food. Be sure to confirm your donations are compliant, and reduce the dump!
Trial and error is a necessary step involved in making any business profitable, and being flexible and willing to try out new ideas is a sure way to find your bakery's niche and grow your customer base. Who knows, earning a profit for your bakery may just be a few easy changes away.
For businesses relying on old technology or basic technology, one of the biggest and most impactful decisions can be to move to a powerful business platform that meets your needs in the front and back-of-house operations.
Manage Inventory
When thinking about increasing efficiency in bakeries, inventory management should be at the top of your list. By creating a cycle of management and evaluation, you will better be able to
Learn more about managing your bakery's inventory in this blog.
Do you know exactly how much flour you use in a week?
Or how often you order eggs?
Or even, what is the minimum amount of butter you should have on hand at all times? With detailed inventory management tools, you can create recipes in your Management Console, allowing you to precisely keep track of the levels of all of the ingredients that go into those recipes.
Be the Employer You'd Want to Work For
A restaurant's team and tools can play a big role in hiring the right employees. By creating an atmosphere that encourages ongoing learning / training as well as equipping employees with the tools that make work rewarding, are ways to build a lasting team.
Incentivizing your team motivates individuals to perform at their highest levels. And with smart reporting technology like Revel, you can easily identify how each team member is performing. Employees that feel like they are being treated fairly and take pride in the business they work for can truly make all the difference for your bakery.
Additionally, employees that are properly trained are more likely to provide better customer service, feel valued, and stick around longer, thus decreasing the costs associated with high turnover.
Be aware that unlike restaurants and bars, bakeries are not known for providing much in the way of tips, however, adding technology like a customer display system enables diners to easily tip on every order. Your team will surely appreciate the boost in tips.
Keep Up with Your Loyal Customers
Technology can also help you stay better connected to your customers. Customer display systems can serve many purposes. Leverage them as a means to collect customer information for your customer relationship management (CRM) and loyalty program. By using a customer-facing screen, while you're ringing up an order, your customer can easily learn about and join your loyalty program!
75% of consumers say they favor companies that offer rewards.
And with the popularity of loyalty programs, the return on investment is often met with just a few loyal members. It's important to build a program that benefits both your bakery as well as your diners. The most successful programs are those that keep diners engaged. Consider the gamification of Starbucks' loyalty program that keeps customers coming back to earn gold stars.
A custom program enables you to create milestones that you are comfortable with:
Set up incentives like "purchase 10 cakes, get 1 free"
Offer incentives such as "refer a customer and get 500 points"
Every 5th visit, receive one free cupcake
And don't forget to engage your customers. The database of customer details you are building provides you the opportunity to re-engage customers!
Stay connected to your customers and inform them of special offers
Send personalized emails to thank customers
Notify them of new flavors or varieties
From award-winning wedding cakes to dozens of freshly frosted cupcake and cake ball varieties, Patty's Cakes and Desserts has cemented themselves as one of the best bakeries in Orange County. Patty and one of her sons co-own the business and expanded a home bakery into a renowned operation. They turned to Revel to help manage their growing bakery.
Variety and customization were crucial to the business, and finding the right technology to organize the variability was just as important.
Customizable Technology
Today, Patty's Cakes and Desserts menu features a whopping 32 flavors of cupcakes, as well as cake balls, cookies, ice cream, and customizable cakes.
To support that amount of variability, Philip and Patty needed a comprehensive point of sale (POS) platform to streamline their business. "Revel has really impacted my business to make things easier, to allow me to be more comfortable with the day-to-day and really just focus on the core business," said Phillip.
With detailed inventory management, a large menu offering requires less time to manage. Following the initial product list build, accepting and tracking any variety of orders is simplified.
An Optimal Dining Experience
At the end of the day, Patty's Cake's mission is to treat customers the way they would want to be treated. "I would like great service and a great product, and that's simply what we do for all our customers," Philip said.
Utilizing Revel enables the team at Patty's Cakes to maintain a strict fresh to order policy, "It's really made our lives easier when working with customers. It saved us a lot of time, which means we can take on more orders, more orders mean more money, and ultimately it's a much more optimized way of running our business, which as a business owner, optimization is always something that we're looking for to keep things moving smoothly," said Phillip.
With inventory management, reporting, and customer relationship management tools, Patty's Cakes is efficiently managing key aspects of the business, enabling the brand to grow and reach new heights.