The POS to achieve your next business goal
Revel Essentials: An intuitive point of sale for your staff. Powerful technology for your business.
Businesses like yours powered by Revel Solutions:
Choose Revel Essentials™ and Grow
Revel Systems Point of Sale and business platform enables small business owners and operators to streamline and enhance day-to-day operations. See why leading businesses Choose Revel Systems
Leverage the most versatile solution in the market today
Revel Systems' feature-rich POS platform integrates seamlessly into a host of Revel developed additional services and third party partners in order to fit the needs of your business. From accounting and eCommerce to CRM and workforce management, Revel offers the tools you need and the partnership integrations you desire to run the business you want.
Learn More
Check out how businesses like yours are succeeding with Revel Essentials!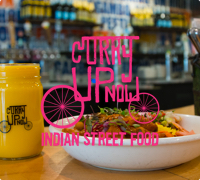 "An advantage of Revel is that we can change settings on the fly and push those updates to every single location without interrupting our operations."
- Jeremiah Voris, Ast. GM.
Curry Up Now
"It's very very helpful having access to the backend at any moment and seeing exactly what the restaurants are doing at any moment. "
- Maxwell Cohen, Owner & Operator
Proposition Chicken
Revel Professional Services
Revel provides service solutions for every stage of your business. Whether you need assistance as you are getting ready to open or are looking for ongoing account management to ensure your business' success, Revel's dedicated service professionals are just a phone call away.
Get Your Free Demo Today!