Revel Version 2.48: It's Pretty Great
Published on: February 20, 2019
What's New with Version 2.48
With the release of Revel Version 2.48 slated for the end of Q1, we wanted to take the time to let Revelers know what exactly they can look forward to with our latest version. We've added new features to our Kitchen Display System (KDS), revamped our online ordering feature, and made a lot of useful tweaks and improvements to the Management Console.
Kitchen Display Enhancements
The updates to our KDS allow you to further simplify your kitchen by reducing the use of paper giving you a more "green" kitchen and giving the expediter the ability to quickly make informed decisions.
The new color-coding options within the KDS will give your baristas the option to simply tap on the KDS to signify that they're working on the selected item. This works by each KDS having a color-code assigned to it, so that when others are looking at an aggregated view, they can see who's working on what, based on the color-coding.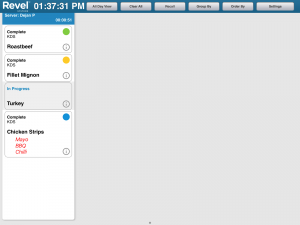 Online Ordering
Within the Revel 2.48 update, we've improved the reliability of the Online Ordering Hosted Checkout process. The new failover process for Online Ordering Payments forces cancellation of an order within a timely manner after the payment attempt if that payment is not captured. The customer who placed the online order will receive an email notifying them that the charge was not processed and that they should place another online order.
*This  feature is currently only active for FreedomPay and Vantiv/Mercury in 2.48; additional improvements will be released in the future
Management Console
Updates to our Management Console includes improvements made to our Time Management functionality, Tip Pooling, and Discounting.
As the manager, you want to ensure that your employees are properly logged out on the iPad as they take their break or exit their shift, so they don't attribute data (i.e. tips) that should not be allocated to them. The latest update to our Time Management functionality includes the ability to require manager approval on the Point of Sale for employees who clock in after their scheduled start time and automatically log out employees once they've clocked out in order to prevent them from doing any actions on the point of sale when not clocked in.
Having the ability to decide if you want to merit your tips based on shift, then being able to appropriately calculate them based on either open or closed date so the tips are awarded to the proper employees, can be a very difficult task to manage. Revel 2.48 Tip Pooling refinement makes it easier to split tip amounts without the need to calculate on a separate spreadsheet, giving you better control for shift-based tip pooling, not just based on the cashier or server who opened the ticket.
Have you ever wanted to have the ability to offer discounts for a set group of products? Well, our Discount Enhancements give you the ability to choose the number of target products that can be discounted based on the qualifying group.
To learn more about our Revel Version 2.48 update, please visit our Support page.