Meet the New Revel Assistant
Published on: December 19, 2018
The Revel Assistant has been making waves! Whether you're firing up your system for the first time, need a quick refresher on a feature, or want to train multiple employees at once, The Revel Assistant is your step-by-step solution for all things Management Console.
A member of the Revel Customer Success team was lucky enough to sit down with The Revel Assistant to learn more about what makes it tick.
[Customer Success]: Revel Assistant, thanks so much for sitting down with me today. We know your time is valuable. We're all dying to know: what is a day in the life like for you?
[Revel Assistant]: Every morning I ask myself, "If my shirt isn't tucked into my pants, are my pants tucked into my shirt?" Luckily, I don't require pants, so that's one question I don't need to know how to answer.
But what I do know is basically everything about Revel. I live in the bottom right corner of the Management Console, where I'm always available to take any user on a guided tour.
Dive into the Getting Started Guides, New Release Feature Guides, and How-To Guides for on-demand assistance and instructions on how to get the most out of your Management Console!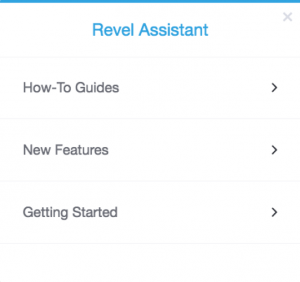 Some of my favorite guides are the Building Your Product List, Adding Prevailing Taxes, and Matrix Inventory guides, but we have resources on a variety of other topics, too!
[CS]: What is your ultimate career goal?
[RA]: My ultimate goal is to create Revel masters around the world. By empowering Revelers with the information and tools they need to succeed, we can create thriving businesses, one Point of Sale at a time.
[CS]: What are two interesting facts about you that not everyone knows?
[RA]: Number one, I'm here to make your job easier! Use me to brush up on your own knowledge or enlist me to train your employees. I'll show them only what's relevant to the page they're on. But be sure to check out the available tutorials on each page because the options change with each tab!
My second fact: I'm a movie star! You may have seen my theatrical debut in a little feature titled The Revel Assistant (aptly named after yours truly). Check it out, and see me in all my glory. But don't worry: I haven't let the fame get to my head. I'm still hard working, reliable, and here to help.