The Rise of Mobile POS Technology in Restaurants
Published on: December 16, 2015
Mobile POS technology is rapidly growing and there's no stopping it! According to Javelin Research, mobile POS proximity payments are expected to reach $5.4 billion by 2018. And Software Advice, a third-party restaurant POS system research site, recently released new POS findings. According to Software Advice's latest article, 72% of single-location restaurant owners show interest in mobile POS software. This begs the question, "Why are restaurant owners so interested in mobile POS technology?" Here are three reasons why restaurant owners are all aboard the mobile POS train:
A new and modern way to dine
The biggest perk of mobile POS technology is it makes tableside ordering possible. Customers experience a completely new way to dine with servers taking orders directly at the table. No more pen and paper and running back and forth from stationary POS terminals. With mobile POS technology, orders can be processed from anywhere on the floor. Mobile POS systems are also extremely easy to use. Servers can easily edit orders on the spot and have suggested items and specials pop up as they're inputting orders. It's a win-win: customers will always be in the loop on the best food pairings and businesses will better upsell.
Accelerated speed of service
Getting hot food to the table is faster than ever with a mobile POS. As soon as an order is inputted, they're automatically sent to the kitchen. Orders are expedited and clearly communicated the moment they're made for quicker service. Servers can even accept credit card or mobile payments right at the table for faster checkout. Chobani SOHO in New York City was able to cut wait times in half with mobile order takers.
Order accuracy
We're human – it's easy to misinterpret orders when they're handwritten. However, with mobile POS technology orders are clearly shown on a digital display. Less mistakes are made and customers can feel confident they'll get exactly what they asked for, down to the last special request.
Picture this
After adopting the mobile order taker concept in your restaurant, imagine the Yelp reviews you will receive from the digital age customer. Now that you have pictured it, here's your happy customer review brought to life!
Restaurants everywhere are benefitting from mobile POS technology. Freddy Lee, owner of Michi Ramen in Austin, Texas, uses Revel mobile POS and shared, "This is, as cliché as it is, the future." Lee couldn't have said it any better. With so much competition, restaurants need new and advanced tools to help them stand out from the crowd and deliver the service that customers in this new digital age crave. If you'd like to better visualize what the craze is all about, take the Revel mobile POS  for a spin here.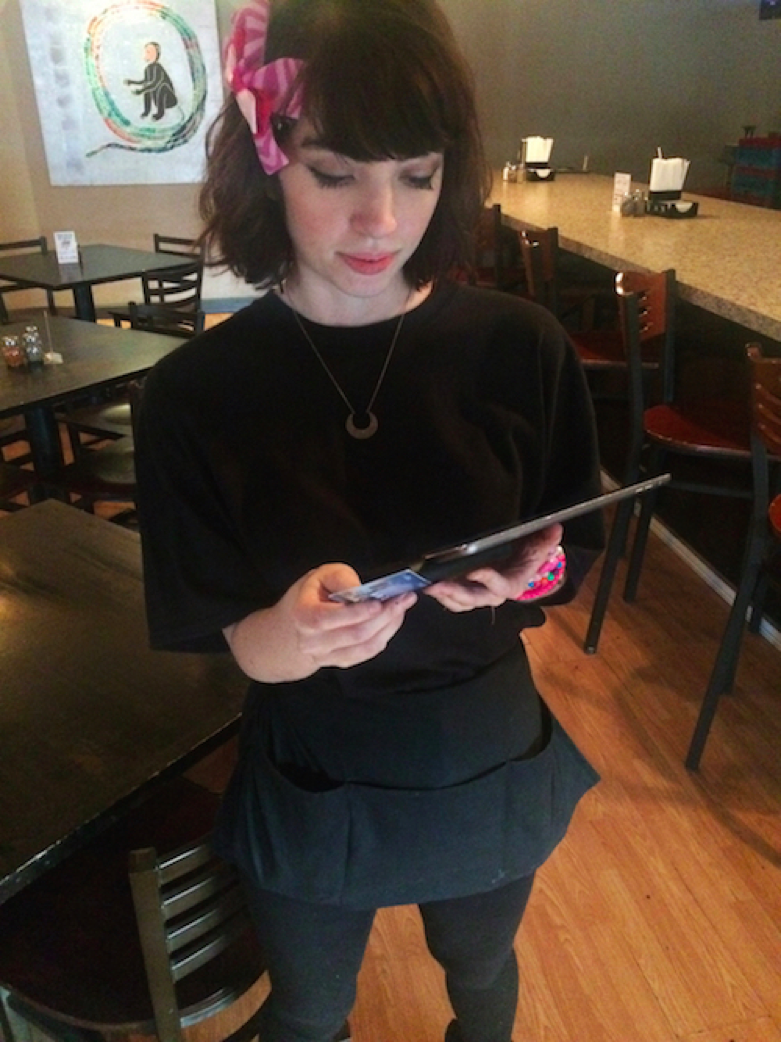 Server at Michi Ramen using the Revel mobile POS.
Free webinar
The Art of Upselling
in Restaurant and Quick Service Industries
---
Webinar Date: Tues., January 19, 2016
Time: 11:00AM PST | 2:00PM EST